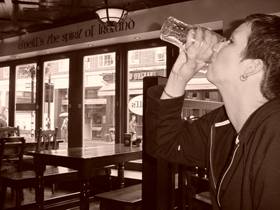 1. I have seven holes—four on the left, two on the right, and one in the middle.
2. I am 67 inches tall.
3. I know that Applebee's has an apostrophe. So does McDonald's. Starbucks? No.
4. Speaking of Starbucks, I'll have a grande nonfat chai tea latte.
5. All of my subscriptions have run out.
6. I drive a silver Hyundai Tucson.
7. I may or may not own the soundtrack to Dawson's Creek.
8. I had my appendix removed during my fifteenth week of pregnancy.
9. I had MC removed during my forty-first week of pregnancy. She weighed in at ten pounds and one ounce. If I had not opted to have her removed, I believe I would still be pushing. And ripping! (And crying.)
10. I had Harper Rose removed during my thirty-ninth week of pregnancy. She was estimated (via ultrasound) to be a ten pound baby, but came out weighing seven pounds and fifteen ounces.
11. Jeff and I were married on October 20, 2001, after dating for nearly five years.
12. We have two cats: Sidney (mine), and Luna (his). Updated: After the passing of Luna, we have added Ramona Quimby—our first black cat, and as of 2011, we also have two dogs—Scout and Henry.
13. I sometimes work from home as a freelance developmental editor. What? You have no idea what that means? Well, neither do I.
14. I have never made an apple pie. I don't feel it's necessary, as my dad makes The Best Apple Pie.
15. My mom ran a ceramic shop in our basement when I was a kid. She is an award winning painter of ceramics.
16. If you meet me when I'm drunk (which hasn't happened in Many Years. This is not a cry for help.), I'll tell you that my name is Samantha.
17. My worst childhood memory involves vomiting doughnuts in Dayton, Ohio.
18. I don't believe Ben Folds could write a crappy song if he tried.
19. When Jeff and I were in London, I think I was the only person in the entire city wearing pink plaid Capri pants.
20. I have voted: Dukakis, Clinton, Clinton, Nader, Kerry, Obama and Obama. (A few of you are high-fiving me in your head. A few of you will never return to my website after reading this fact.)
21. I am hopelessly drawn to creative people with fun hair.
22. The following items are attached to our refrigerator with magnets: the pediatrician's phone number, Sonic coupons (expired), ticket stub from the Ben Folds/ Rufus Wainwright/ Guster show, and a Lemony Snicket calendar.
23. I think Carol Channing is one of the most hateful people ever.
24. I also think that Ashley Judd and her mother are terrible. And although it might be close, I think I could beat both of them up. And I would like to. Yes, Judd family, that is a challenge! Come and get it!!!
25. I have Georgia O'Keefe's hands tattooed on my left leg and the word Create tattooed onto my left forearm.
26. My first job was at Baskin-Robbins. I was almost fired when I put too many almonds on a fudge round ice cream cake.
27. I went to the University of Missouri on a piano scholarship, which I forfeited during my freshman year.
28. I once had dinner with Vinx at The Old Heidelberg.
29. I once had dinner with The Loud Family at Saleem's.
30. When I saw her at a book signing in Nashville, Helen Fielding told me that I was brilliant, but I doubted her sincerity.
31. I changed my major seven times during college.
32. I finally finished with a degree in psychology, which I have never used.
33. For me, there is nothing quite like crossing a snowy/slushy street at night in order to enter a movie theater.
34. I often fall asleep during movies. During the opening credits.
35. I lost nearly thirty pounds in 2003 with the help of Weight Watchers.
36. I will always be obsessed with my weight.
37. I cannot be controlled when there is gooey butter cake in the room.
38. I rarely watch television.
39. I broke my arm at twelve years of age when I fell down while roller skating toward a Pac-Man machine.
40. I know all of the words to the Beastie Boys Licensed to Ill album.
41. I knit, and I'm trying to crochet.
42. My Perfect Day would involve snow, good coffee, tame sushi, jeans that fit, an orange sweater, a fresh haircut, my mary janes, and My Bloody Valentine.
43. I cannot sing Plea from a Cat Named Virtute by The Weakerthans without choking up on the "I know you're strong" line.
44. Shortbread cookies? Yes! Thank you!
45. I own the greatest punch bowl ever. It has never been used. It is so hip and lovely that it scares the shit out of me.
46. A few people (including Jeff) used to believe that I was the singer in an R.E.M. cover band.
47. I play the French horn.
48. I wear a retainer to bed at night. And one of those nose strip things. I look very pretty.
49. My sister is more amazing than your sister.
50. I'm completely in love with the movie Amelie.
51. We have extended cable television only because Jeff hit the cable guy in the eye with a rubber bullet.
52. I sing like a loud-mouthed fool when I'm alone in my car.
53. I'm Angela in Nashville, Angela/Angie in St. Louis, Gigi in Springfield, and Ang at home.
54. My husband has a toe for a thumb.
55. I am allergic to most grasses and trees. I will not go hiking with you.
56. I am an aspiring vegan, and have been a vegetarian for the past five years.
57. I often think about how nice it would feel to take a nap in a bathtub filled with warm scrambled eggs.
58. If I ever find myself face to face with Ira Glass, I don't believe I'll be able to stop staring at my shoes and grinning like a sociopath.
59. I have never and probably won't ever finish reading anything by Laura Ingalls Wilder. I know, I know. I'm missing out, right? Shut up.
60. If your name is Heidi, I don't believe we could ever be good friends.
61. I am a menstrual migraineur.
62. I wear big girl cotton underpants.
63. At any given time, I can tell you if any of my neighbors are home and what they are wearing. Huge windows make a girl very curious, you know.
64. I don't believe I'll ever see the day when I wake up in the morning and say, "You know, I really like my butt."
65. I often carry on imaginary conversations in my head with people I dislike.
66. I have put dead people in body bags.
67. I have cleaned excrement from the beds of unconscious men. (Please know that I worked in a hospital. Also, I wore gloves.)
68. My belly button's name is Billy Pancake.
69. More than one of my relatives has passed out drunk in the snow and frozen to death.
70. Jeff and I don't have big fights. We rarely argue. We are simply double-dipped in the chocolate sauce of grinning love, my friend.
71. I am the clumsiest and most physically awkward person you will ever meet. I have probably fallen down twice since you started reading this list.
72. I sneeze more than anyone you know.
73. Our old laptop knew me as One Fly Mutha.
74. I love the smell of eucalyptus/spearmint bath products and candles.
75. To me, maintaining eye contact is more difficult than a Beethoven sonata.
76. On our first date, Jeff took me to the St. Louis Art Museum to see Shine.
77. On our second date, I took him to the Tivoli to see Tromeo and Juliet.
78. I am definitely not a People Person.
79. I rarely stay up past 10:00.
80. One of my favorite snacks is cold chocolate icing spread onto a graham cracker.
81. While living in Nashville, an EEG confirmed that I have epilepsy. However, I do not have epilepsy. I am a phenomenon.
82. My favorite Groundhog Day was spent learning how to line dance in the street during a snow storm.
83. I believe I would like some key lime pie.
84. I would like to get silly on martinis and spray paint the side of a building with Rufus Wainwright.
85. Popcorn gives me nightmares.
86. Bumble and Bumble Sumo Wax is completely necessary to maintain my style.
87. I'm a sucker for orange roses, and am currently searching for The Perfect Pair of orange clogs.
88. I have a hard time appreciating most musical theater productions/personalities.
89. I sometimes use the F word, but only in completely appropriate situations.
90. I hate talking on the telephone.
91. I believe I could survive on tomato/mozzarella/basil sandwiches.
92. Coming in at a close second is green apple/muenster cheese sandwiches.
93. I don't mind cheap beer, but I'd prefer a Fat Tire.
94. I absolutely hate attending business meetings. I cannot pay attention, and I often resort to drawing bad cartoons in an effort to stay awake. Oh! Unless the meeting involves doughnuts. If there are doughnuts, I'm bright-eyed and alert. Jelly doughnuts!
95. I enjoy attending outdoor high school marching band competitions.
96. I often wish I had long hair, simply for the messy ponytail options.
97. I've been told that I'm much more interesting online than I am in real life.
98. I have a real problem with pictures of animals dressed up as other animals.
99. I don't accept compliments very gracefully.
100. It's only fair to tell you I'm absolutely cuckoo.