Many (many) years ago, my friend Alison and I took an art appreciation course at the university, and one day during class the instructor showed us this photo taken by Alfred Stieglitz.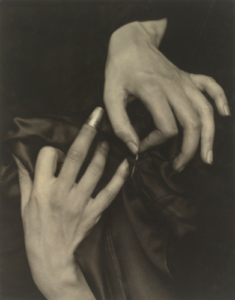 Our instructor told us that Stieglitz took hundreds of photos of Georgia O'Keeffe, but never felt like he captured her until he started to take photos of her hands. He ended up taking hundreds of photos of her hands, and each one is beautiful.
I love the story of the hand photos, and I love that you can see so much of her in the photos without seeing very much of her at all.
One Saturday in 1993 when I was working at the neurology ICU, a nurse came in with a newspaper clipping. It was the hands pictured above along with the story of how the photo had just sold at an auction. The nurse told me that the photo struck her as something I might like. The fact that the photo had come back into my life led me to ask one of my best friends to design a tattoo of it, and he did. (It's shaped like a teardrop and I love it so much.)
27 years ago a guy named Spyder tattooed the design onto my left ankle as his little dog bit at his left ankle. (He did the tattoo in his apartment so I didn't have to pay the extra shop fees.) $40. Perfect.
When I turned 50 last year, I decided to get another tattoo of O'Keeffe's hands, and the photo I fell for was this one.
To me, this photo is anxiety and pain and sex and joy. I sent it to an amazing local tattoo artist, and three nights ago she put it on my arm along with the final line from The Sun Also Rises. (You don't need to know the story of the quote. It's part of my 17%.)
While the artist was working on me, I told her about Spyder doing my first set of O'Keeffe hands. Get this: Spyder was her mentor's mentor. I love that Spyder is her tattoo grandpa and that this tattoo has a connection to the first that goes beyond O'Keeffe's hands. (Also, I love that my skin is Georgia O'Keeffe's skin.)
I have so much to share with you, but right now let's just look at my arm.